A Name You Can Trust
When you contact Titus Tileworks, you know exactly who is doing the work, and you know the talent to be expected. Our name is on our truck, and on our shirts, because we stand behind our quality.
Precision Craftsmanship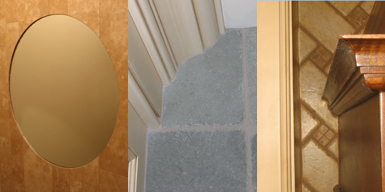 Click image for larger view
Don't trust these sorts of cuts to just anyone. Turn simple 4x4 tiles into art by gracefully wrapping around crown moldings and range hoods. Expect a perfect mirrored reflection from your polished marble floors. From backsplashes, showers, and fireplace surrounds, to custom mirrors and nameplates, Titus Tileworks will rise to the challenge.
It's always cheaper to get it done right the first time.
Setting Us Apart
Titus Tileworks uses only the best setting materials to ensure the longevity of your installations.
Skilled in the art of wet bedding, Titus Tileworks is the contractor other contractors call to lay the foundations in their showers.