Selecting tile can be difficult.
Your home greets you every day. It is an expression of your taste, your style, and your family. Let each backsplash, floor, and fireplace tell your story with the artistry of Titus Tileworks.
Selecting a tile contractor just got easier.
Since 2004, Titus Tileworks has been beautifying homes in Southeastern Pennsylvania and New Jersey. All work is personally performed by Jude Titus, the contractor with over a decade of experience. Trusted by builders, designers, and homeowners alike, Titus Tileworks will execute your vision or help you create your own.
For Skilled Installation of:
Ceramic Tile
Porcelain Tile
Natural Stone
Glass Tile
Handcrafted Tiles such as Mercer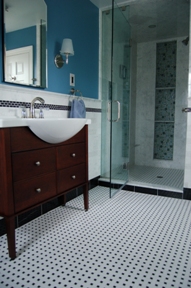 From floor to ceiling, Titus Tileworks can convert your living spaces into works of art.